Fluon® PTFE Granular powders (G grade molding powders) are used for the production of sheets, rods, billets and other general moldings.
Filled PTFE compounds (FC) have improved creep and wear resistance. Please refer to the FC product page for more information.
Fluon® PTFE G Usage
The following are examples of uses for the G grade (molding powder).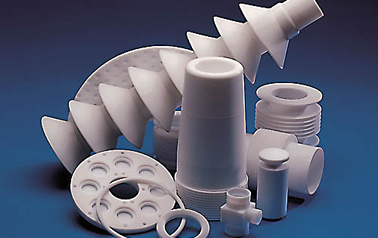 Sheets, rod, billets, stock shapes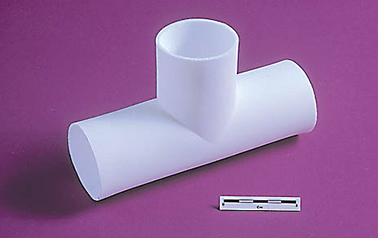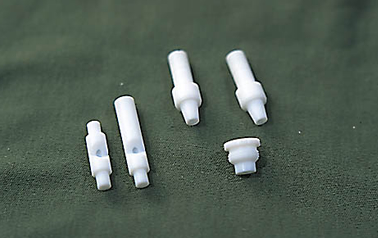 Properties
Bulk Density
Median Particle Size
Powder
Flow
Recommended
Molding Pressure
Tensile Strength
Elongation
Diametrical Shrinkage
Surface Finish
Applications
Characteristics
Test Methods
JIS K6891
ASTM D4894
ASTM D4894
ASTM D4894
ASTM D4894
-
G163
330
25
-
16
42
350
4.2
Excellent
Large billets (300 - 1,500 mmH)
Sheet molding
Feed stock for Filled compounds
Fine particle powders,
High tensile strength,
Excellent surface finish,
Higher bulk density.
(G190 and G192)
G190
440
25
-
16
42
370
4.3
Excellent
G192
460
25
-
16
41
360
4.7
Excellent
G201
630
550
Best
-
23
(JIS Kー7137)
250
(JIS Kー7138)
-
Good
Ram extrusion Pipe,Rod(<φ20mm)
Presintered Polymer,
High powder flow,
Lower crystallinity
G307
750
650
Best
30
36
350
2.8
Good
General molding
Automatic molding
Isostatic molding
Ram extrusion Pipe,Rod(<φ20mm)
Agglomerated (Free-flowing) Powders,
The best powder flow (G307)
The highest bulk density (G355)
G350
900
380
Better
30
36
380
3
Better
Information about this Product
Inquiries about this Product
We also accept requests for samples, and consultations regarding introduction and verification support.