Shin-Toyosu Brillia Running Stadium (Tokyo, Japan)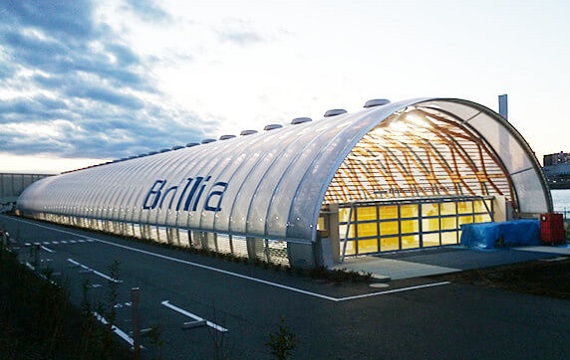 The first large-scale membrane ETFE Film structure in Shin Toyosu Brillia running stadium" opened in 2016. It is a facility aimed at nurturing the local sports community. Approximately 7,000 m² of AGC's high-performance fluoropolymer Fluon® ETFE FILM was applied as roof material in a two layers cushion, fabricated with 250 μm thickness films. In order to prevent heatstroke in the summer, film on the outside is coated with highly reflective ink. Film on the inside is coated with white ink so that the room temperature is only 3 degrees higher than the temperature outside, without using air conditioning.
Forsyth Barr Stadium (Dunedin, New Zealand)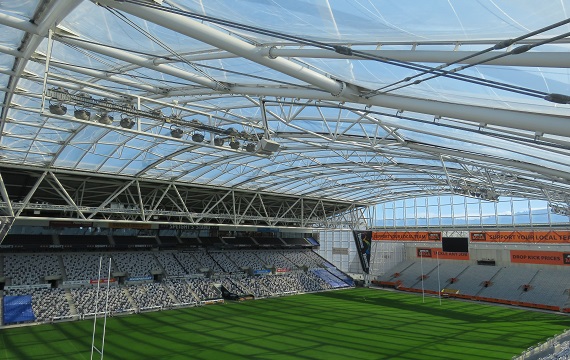 AGC's high-performance fluoropolymer film "Fluon® ETFE Film" has been utilized to build the translucent polymer roof structure of the 30,000-capacity Forsyth Barr Stadium located in Dunedin, New Zealand. The Forsyth Barr Stadium's roof covers 20,000 square meters, and is composed of sheets of clear, lightweight film with a thickness of 0.2mm. In addition to sporting events, the multi-purpose, all-weather stadium can also host events, concerts and trade shows, offering visitors the visual spaciousness and abundant sunlight of an open environment, while protecting them from wind, rain and snow during poor weather.
Allianz Arena (München, Germany)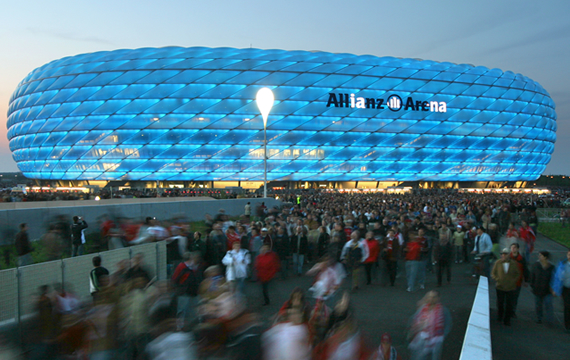 One of the world's largest (66,500 m2) membrane structure soccer stadiums, which was finished in 2005 in München, Germany. Fluon® ETFE Film was used on all surfaces. Using Fluon® ETFE Film not only kept construction lightweight, but made its advanced design (such as curved surfaces) possible. Finally, when multicolored light strikes Fluon® ETFE Film from the rear, the transparency and diffusion of light can be controlled to change the entire dome's color to impressive shades such as red, blue, or white.