Fluon® ETFE Film Functions and Features
Fluon® ETFE Film - Functions and Features
Fluon® ETFE Film Functions and Features
Superior weatherability and optical transparency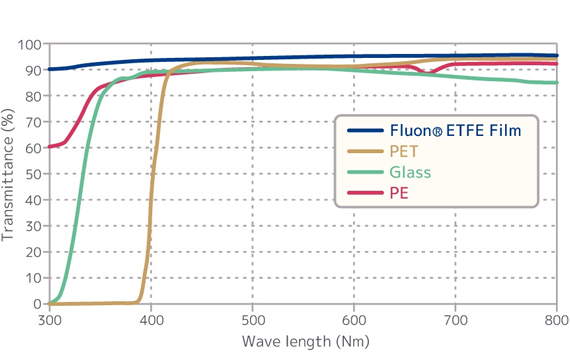 Fluon® ETFE Film offers superior light transparency, allowing ultraviolet light and sunlight to pass through. It features superior weatherability from ultraviolent to infrared light, and provides strong light transparency and mechanical properties even when left exposed outdoors for a long time.
Hardly any degradation at all was seen even during a 16,000 hour weatherability acceleration test (equivalent to actual exposure of more than 30 years) conducted with a sunshine weather meter. The fact that films first installed in greenhouses in 1985 have yet to degrade and are still being used as of today is further proof. Our 50 μm-thick film offers a high light ray transparency of 95%, and works exceptionally well as protective film for solar cells or covering material for membrane structure roofs and agricultural use.
Superior heat-resistance and chemical resistance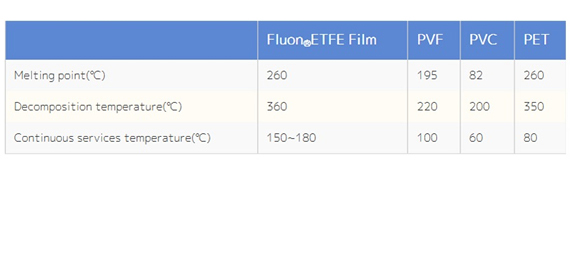 Fluon® ETFE Film is a UL standard 94VTM-0 flame retardant material that can be used in a wide range of temperatures (from -200°C to 200°C). It performs well when used for release film or cushion film of carbon composite materials or printed circuit boards. It is also inert to most chemicals and does not virtually allow highly acidic or alkaline chemical substances to permeate, providing strong chemical resistance.
ETFE resin which is a raw material used as the basis for Fluon®ETFE Film, is a crystalline thermoplastic with a melting point of approximately 265-270°C. For general use, however, it is practical to use Fluon® ETFE Film at continuous service temperature determined by the long-term change of tensile elongation, which accurately reflects the thermal deterioration of the polymer.
Superior non-adhesiveness and advanced mechanical properties (flexibility)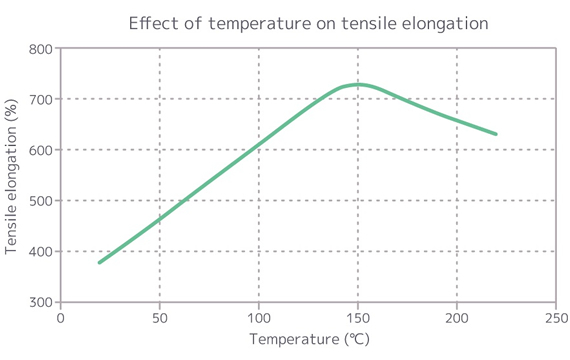 Fluon® ETFE Film features superior non-adhesiveness, releasability, and stain resistance that are characteristic of fluorine. Contact angle, which indicates non-adhesiveness and water repellency, is 106°. It is also highly flexible, and demonstrates a uniaxial tensile elongation of 400% or more even under room temperature conditions and over 600% in the condition over 100°C. Its strong non-adhesiveness and flexibility mean that it can be used in a wide variety of situations as a release film for electronics parts or stain resistant film for wallpapers or signboads.
Information about this Product
Inquiries about this Product
We also accept requests for samples, and consultations regarding introduction and verification support.