Because CYTOP® has an amorphous structure, it can achieve extremely high transparency and can be used as a thin film coating. Furthermore, it is a fluoropolymer with the characteristics including "transparency", "electrical insulation", "water and oil repellency", and "chemical resistance".
CYTOP® Functions and Features
CYTOP® demonstrates the various properties of fluorine
Since, in addition to the general properties of fluorine such as "oil and water repellency", "chemical resistance" and the like, it also has unique properties such as "transparency", "refractive index equivalent to water", "no fluorescence", etc. it can be considered for use in various fields.
Can be used as a thin film coating
CYTOP® is a fluoropolymer that dissolves in exclusive fluorine-based solvents, so it can be used as a thin film coating with thicknesses less than 1μm. Various application methods such as spin, dip, spray, die-coat, and more are possible.
Dilution solvents corresponding to the coating methods
CYTOP® is a fluoropolymer with a special structure, and since it is insoluble with most solvents, when diluting, we recommend to diilute it with a special solvent. Depending on the coating method, we have prepared solvents with 2 different boiling points. It is possible to achieve a good film coating by using 2 types of solvents. They are 180°C for spin coating, 100°C for dip coating, and a blending of the two solvents for spray coating.
CYTOP® is not only used in a wide-range of fields such as electronics, telecommunications, life sciences and the like, but it is also highly acclaimed as a next-generation material for promoting cutting edge research and development at public research organizations and universities around the world.
CYTOP® Usage
Here we'll introduce some examples of the anticipated uses of CYTOP® along with its current conventional uses.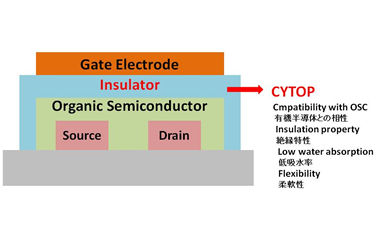 Gate insulators for organic semiconductors in flexible displays
It is used in many research institutes as a flexible insulating material with good "compatibility with organic semiconductors".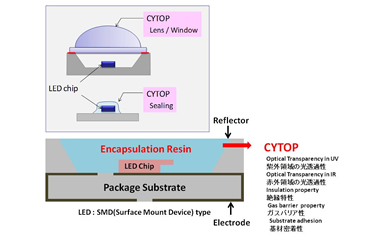 Deep-UV LED encapsulants
CYTOP® is focused on as a material for use in Deep-UV LED encapsulants due to its durability as compared to epoxy resins and silicon resins which are not sufficiently durable.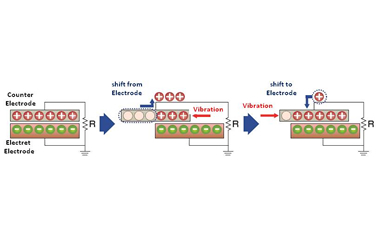 Electret material for vibration power generators
Because CYTOP® has the property to keep a charge (=electret property) semipermanently, it is used as a material in vibration power generators for sensors in IoT devices.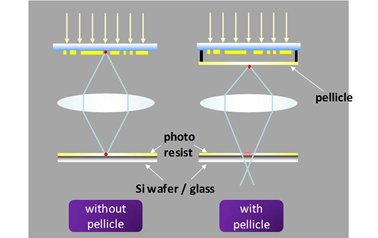 "Pellicle" which is thin film on the photomask preventing particle contamination.
A "pellicle" is a product that prevents the reduction in production yield during the exposure process in semiconductor manufacturing. CYTOP®, which also transmits deep UV light, is used for this purpose.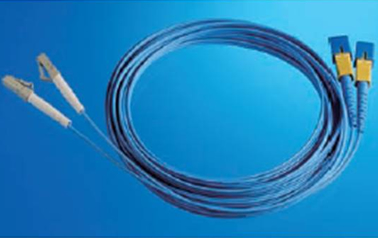 Ultrafast optical fiber "Fontex"
By adopting CYTOP®, it is possible to achieve a more flexible and ultra high speed transmission than with quartz. Compared to copper wire, it is lightweight with low power consumption and is resistant to noise.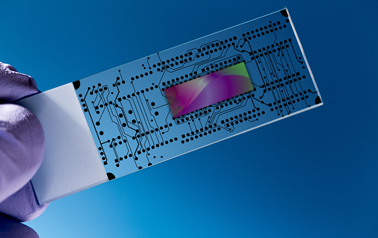 "Biochips" for detecting cells, DNA, and proteins
Because CYTOP® has "low-adhesion with biological materials", "low fluorescence", "wettability control", "nearly the same refractive index as water", and other properties, it is used in microchannels in biochips.
The CYTOP® standard garade is set by a combination of the molecular weight (2 types), terminal functional group (3 types), solvent, density, and filtration accuracy.
Grade name
Molecular
weight
Terminal
functional
group
type
Solvent
boiling
point
Solvent
type
Density
Filtration
accuracy
Container type
/capacity
CTL-809A
Low
molecular
weight
A-type
180°C
PFC
9%
5μm
PE/100g
CTX-809A
Standard
A-type
180°C
PFC
9%
5μm
PE/100g
CTL-109AE
Low
molecular
weight
A-type
100°C
HFE
9%
5μm
PE/100g
CTX-109AE
Standard
A-type
100°C
HFE
9%
5μm
PE/100g
CTL-809M
Low
molecular
weight
M-type
180°C
PFC
9%
5μm
PE/100g
CTL-107MK
Low
molecular
weight
M-type
100°C
HFC
7%
5μm
PE/100g
CTX-809SP2
Standard
S-type
180°C
PFC
9%
0.2μm
PE/100g
CT-SOLV180
180°C
PFC
PE/100g
CT-SOLV100E
100°C
HFE
PE/100g
CT-SOLV100K
100°C
HFC
PE/100g
*Molecular weight: Standard about 250,000-300,000, low molecular weight about 150,000-200,000
*Terminal functional group: A type) -COOH M type) -CONH-Si(OR)n S type) -CF3

*Sample set is sold as a set containing 100g solution (=100g bottle x 1) + 300g dilution solvent (=100g bottle x 3)
  The dilution solvent is used for thin film formation and/or film thickness control.
  If using thick films, application with only a solution is possible.

*The dilution solvent is available in 3 types; CT-SOLV180, CT-SOLV100E, and CT-SOLV100K.
  Basically they are intended to be used based upon the boiling point of the solution, but it is possible to blend them for use with spray application and the like.
Inquiries about this Product
We also accept requests for samples, and consultations regarding introduction and verification support.