ECOBLAST <General Name > Sodium Bicarbonate
ECOBLAST
<General Name > Sodium Bicarbonate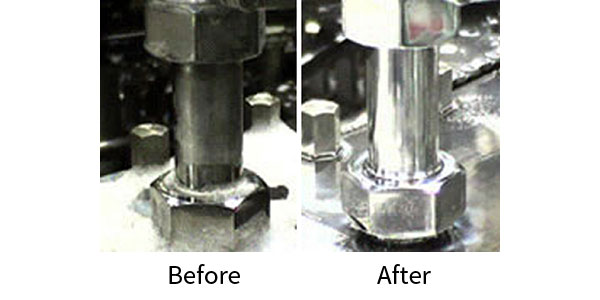 << ECOBLAST >> is a blast cleaning agent that cause virtually no damage to materials and can be rinsed with water.
*Ultrafine particle < ecorundum > is a make-to-order product.
• Raw materials are 100% sodium bicarbonate
• Since it's water soluble, it can be easily rinsed and doesn't remain on the equipment
• Most metal is corrosion resistant against sodium bicarbonate solution
• After use, if dislodged grime can be separated, it can be rinsed off
• With pH of 8.3, acidic ingredients can be neutralised
• Mohs hardness is 2.5, so virtually cause no damage to the base metal
• Solvent-free, non-surfactant but can remove oil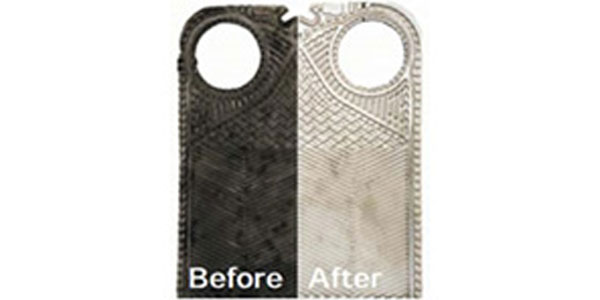 • Machine part coating peeling
• Ship bottom paint layer peeling
• Oil, scale removal
• Mortar scale removal
• Natural stone cleaning
• Burner tip carbon and tar scale removal
• Grill, iron plate cleaning
• (ecorundum) Electronic substrate polishing, cleaning
• (ecorundum) Precision machinery part surface molding
Dry blast, wet blast, and water blast can all be used.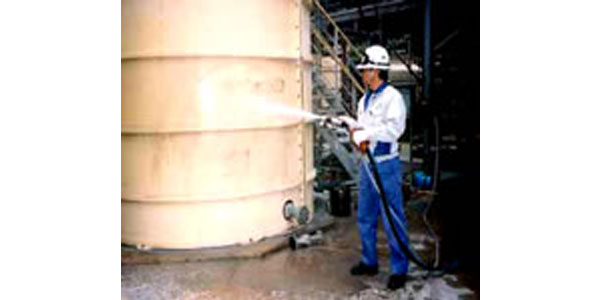 Wet Blast process
Air pressure: 0.2-0.8MPa
Consumption: 1.0-10kg/min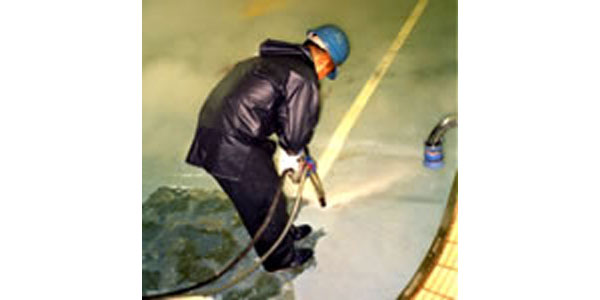 Wet Blast process
Air pressure: 0.2-0.8MPa
Consumption: 1.0-10kg/min
Products
Mean diameter
Characteristics
Purposes
Type
Water
Wet
Handy-wet
EB60
0.3mm
Coarse particles
Cleaning, removing ink paint, oil, paint removal
◎
◎
◎
EB80
0.2mm
Granular particles
◯
◎
◯
EB100
0.1mm
Fine particles
Scale removal, deodorizing cleaning,
acid scale removal
◯
◯
◯

It shoots < ECOBLAST > with compressed air at its target for cleaning and peeling.
Direct pressure type in which compressed air is put into the blast tank.
Small and lightweight. Can be used with simple operations.

Click here for details on the Ecoshitaro (Japanese Only) (PDF: 234KB)

Type that shoots ultrafine particle < ecorundum > and is suited for cleaning and polishing substrates made of new materials.
Can remove glass fibers and burrs.
Since it is water soluble, residue on the material is held to a minimum.
| Products | Mean diameter |
| --- | --- |
| Ecorundum1200 | 10μm |
Blast processing method for use in machine parts manufacturing.
Burrs can be removed without roughening the surface.
A hole of the clectronic circuit board's formed by ecorundum

The machine parts surface formed by ECOBLAST

■ AGC Inc. (Japan) Kashima Plant