[Solvent] Methylene Chloride
[Solvent] Methylene Chloride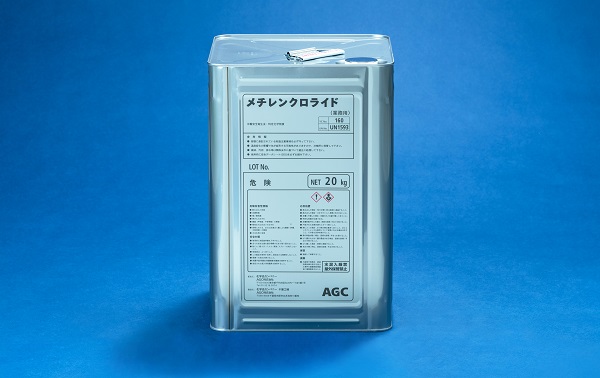 Methylene chloride is manufactured using AGC's proprietary production method as "Asahi Chloromethane," a methane-based chlorine derivative with a carbon number of 1.
It offers high degreasing performance and stability and has a low boiling point, so it can be ideal for cleaning parts that are adversely affected by heat, as well as for organic synthetic solvents and extraction solvents.
Methylene chloride is one of the most stable aliphatic saturated chlorinated hydrocarbon compounds.

General Name : Dichloromethane, chloromethylene
Chemical Formula : CH2Cl2

(Reaction) : CH4 + 2Cl2 → CH2Cl2 methylene chloride + 2HCl

CSCL Numbe : 2-36
Industrial Safety and Health Law Number : 2-36
CAS No. : 75-09-2
Metal cleaning, printed circuit board cleaning, paint remover, adhesive solvents, urethane foam auxiliary blowing agents, manufacturing solvents such as polycarbonate resin
Oil tins (20 kg), metal drums (250 kg), and chemical tank trucks
*Please read the safety data sheet (SDS) before using.
Follow related laws and regulations during use. These laws and regulations are Japanese one.
Handling
Technical Measures
Handle in a well ventilated area.
Wear protective equipment so that the product does not get on your skin, mucosa, clothing or get into your eyes.
After using, wash hands and face thoroughly, and do not carry contaminated protective equipment into restroom areas or other such locations.
Seal containers tightly each time they are used.
As a general rule, use a flooring material in storage and handling areas that will not allow the product to leak underground, such as concrete. Be careful that the concrete does not crack.
When working in a sealed location, make sure appropriate local exhaust equipment is installed.
Handle the product in accordance with laws and regulations related to the Industrial Safety and Health Act of Japan or your local rules.
When heating, avoid direct heat. Instead, use a hot compress or hot water.
If the product makes contact with high temperatures such as naked flames or red hot objects, it will undergo thermal decomposition, releasing hydrogen chloride, carbon monoxide, phosgene, or other extremely toxic gases. Do not let the product come into contact with any high temperature objects.
Storage
Technical Measures
Avoid exposure to direct sunlight.
Store in a well ventilated area.
Do not allow even a portion of the container to reach a temperature of 40°C or higher.
Proper Storage Conditions
When storing in a pail or other container outdoors, attach a roof, or otherwise cover the container.
Insulate outdoor storage tanks, and install cooling equipment to reduce the temperature of the methylene chloride inside the tank.
Safe Container Packaging Conditions
Made of tin plate (20 kg) or steel (250 kg)
■ AGC Inc. (Japan) Chiba Plant
This product is for industrial use, and has not been developed or produced with the intention of use in medical applications.
*Please refer to the SDS for other more detailed product information.