Highest Platinum Rating Received forAGC Pharma Chemicals Europe in EcoVadis Supplier Survey
News and Topics
Highest Platinum Rating Received forAGC Pharma Chemicals Europe in EcoVadis Supplier Survey
08/01/2022
AGC Pharma Chemicals Europe, S.L.U, an AGC Group subsidiary located in Spain, received EcoVadis' highest Platinum supplier rating that goes only to the highest one percent of the companies assessed.

EcoVadis has been providing comprehensive Corporate Social Responsibility (CSR) evaluations through a global-scale cloud platform. EcoVadis assessment covers a wide range of management areas encompassing the environment, labor and human rights, ethics and sustainable procurement impact, except for financial aspects. To date, more than 90,000 companies worldwide have undergone EcoVadis assessment.

AGC Inc. also received Platinum supplier rating for the third consecutive year for its Kashima Plant, one of main manufacturing sites for AGC Chemicals located in Kamisu City, Ibaraki Prefecture, while its Chiba Plant (Ichihara City, Chiba Prefecture) and several domestic and overseas Group subsidiaries has also continued to receive excellent ratings.

AGC Chemicals is creating a safe, secure, comfortable and environmentally friendly world with chemical technology based on our vision "Chemistry for a Blue Planet".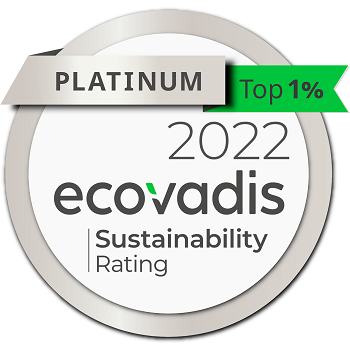 > Please click here for the detail information about CSR related External Evaluations.

> Please click here for inquiries.