ASAHIKLIN AK-225 <General Name > Fluorinated solvent
ASAHIKLIN AK-225
<General Name > Fluorinated solvent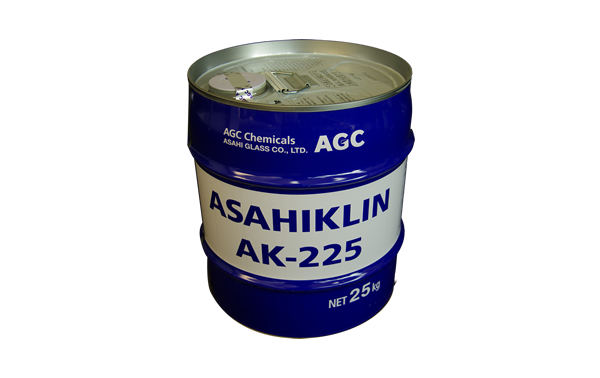 The ASAHIKLIN AK-225 series is a hydrochlorofluorocarbon (HCFC) with an Ozone Depletion Potential (ODP) of 0.03 and a Global Warming Potential (GWP) of 380. This balanced fluorinated solvent also offers selective solubility. It can also be used as a substitute for brominnated solvents for which regulations and controls are expected to tighten.
Features strong cleaning power for mineral oils and flux—similar to HCFC-141b, brominated solvent (1-bromopropane), chlorinated solvents (methylene chloride/trichloroethylene/perchloroethylene)—and can be used for a broad range of cleaning applications.
There is virtually no detriment to using on plastics, and can even be used to clean printed circuit boards and plastic parts.
It also dissolves lubricants (such as silicon oil and fluorine oil) and anti-rust agents, and can be ideal for use as dilution solvent.
General Name : Dichloropentafluoropropane (aka HCFC-225)
Chemical Formula : CF3CF2CHCl2 : HCFC-225ca (3,3-Dichloro-1,1,1,2,2-pentafluoropropane)
          CClF2CF2CHClF : HCFC-225cb (1,3-Dichloro-1,1,2,2,3-pentafluoropropane)
HCFC-225ca
CSCL Number : 2-3586
Industrial Safety and Health Law Number : 2-(13)-180
CAS No. : 422-56-0
HCFC-225cb
CSCL Number : 2-3587
Industrial Safety and Health Law Number : 2-(13)-179
CAS No. : 507-55-1
| | AK-225 | AK-225AE | AK-225AES | AK-225T |
| --- | --- | --- | --- | --- |
| Resin Bottles | 1kg | 1kg | 1kg | 1kg |
| Pails | 25kg | 25kg | 25kg | 25kg |
| Drums | 300kg | 300kg | 300kg | |
| Tanker Trucks | 10MT(Japan Only) | | | |
[Handling]
(Technical Measures)
Wear proper protective equipment and perform work from upwind whenever possible, in order to avoid inhalation or contact of the liquid with the eyes, skin, or clothing.
Open and close the screw lid of the filling container carefully and gently.
Control the venting of vapor and ventilate appropriately. We recommend keeping the work environment at AGC AEL100 ppm or lower.
Fire is strictly prohibited. If the product comes into contact with naked flame or a hot metal, thermal decomposition will occur and poisonous gas (such as hydrofluoric acid) will be emitted.
[Storage]
(Proper Storage Conditions)
Avoid exposing the filling container to direct sunlight, and store it in a cool, well ventilated area.
Since the boiling point of the product is low, the container may swell if exposed to the hot summer sun. If the stopper is opened, liquid may squirt out from the container.
Store the filling container in a dry area to prevent corrosion due to humidity, water droplets, etc.
Ensure that it is not stored near heat, sparks, flame, etc.
(Safe Container Packaging Material)
Stainless steel
Exterior: Melamine resin coating; Interior: Epoxy urea resin coating #110 clear
■ AGC Inc. (Japan) Chiba plant