AGC Chemicals attends 30th Chlor-Alkali Plant Operation Anniversary Ceremony at Egyptian Petrochemicals Company
News and Topics
AGC Chemicals attends 30th Chlor-Alkali Plant Operation Anniversary Ceremony at Egyptian Petrochemicals Company
17/01/2018

AGC Chemicals visited Egyptian Petrochemicals Company (EPC) in Alexandria, Egypt to attend its 30th Chlor-Alkali Plant Operation Anniversary Ceremony. This ceremony cerebrates 30th operation anniversary of its chlor-alkali production plant adopting AGC's original electrolysis cells "AZEC-M3" installed with FLEMION™ Membrane.

In the ceremony EPC has expressed its high appreciation for AGC's stable supply and high quality of FLEMION™. EPC established its vinyl chloride plant and chlor-alkali plant in 1983. These plants were the first one to be built in Egypt, starting their actual operation in 1987. AGC Group supplied not only FLEMION™ but also electrolysis plant at that time, supporting EPC to start up the business.

To launch the production of chlor-alkali products AGC Group and its supporting companies has dispatched over 50 engineers at that time. AGC Group has been supporting EPC for the maintenance of the plant for 30 years. Mr. Gaber Ahmed Hassan, chairman of EPC, also attended the ceremony and expressed gratitude for AGC's long years of contribution. Both company also confirmed continuous business relationship on FLEMION™ going forward for many more years.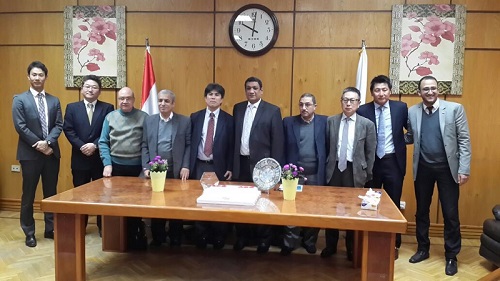 - Please see this page for the detail product / service information FLEMION™.

- Please click here for inquiries.