CYTOPTM will be exhibited at "Lab-on-a-Chip Microfluidics & Microarrays World Congress 2016 San Diego"
News and Topics
CYTOPTM will be exhibited at "Lab-on-a-Chip Microfluidics & Microarrays World Congress 2016 San Diego"
09/20/2016
The congress is the academic and industrial one for the rapidly growing Microfluidics Technology.
AGC Chemicals Company will be exhibiting CYTOPTM as a unique hydrophobic coating material for Microfluidics used in DNA sequencer and several analyzers in life science market. CYTOPTM has been at the center of attention with its unique properties, hydrophobicity, low fluorescence, insulation property and chemical resistance.
Date:
Sep 27th – 28th, 2016
Click the link for more details.
https://selectbiosciences.com/conferences/exhibition.aspx?pid=4458&conf=LOACWC2016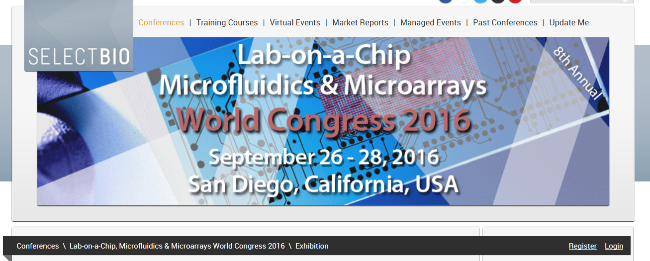 - Please see this page for the detail product / service information "CYTOPTM" introduced in this exhibition.

- Please click here for inquiries.